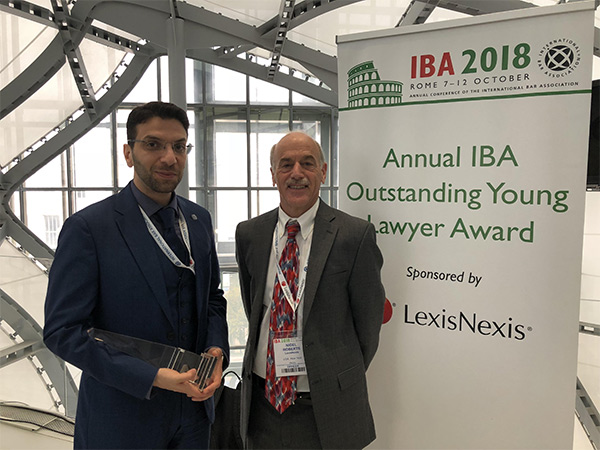 The 2018 IBA Outstanding Young Lawyer Award recipient, Oliver den Dauw, The Netherlands, poses next to Nigel Roberts (right) from LexisNexis.
International Bar Association
LexisNexis has partnered with the International Bar Association (IBA) on a number of important projects and awards. In addition to the eyeWitness to Atrocities project outlined in more depth here, in 2008, LexisNexis worked with the IBA to establish the Outstanding Young Lawyer Award. This annual award honors a lawyer within the association for professional excellence and also for that individual's role in giving back to society. The award was established to honor former IBA and American Bar Association President William Reece Smith, Jr. Since the establishment of this award, there have been 11 awardees. For an additional seven years, LexisNexis has sponsored the Human Rights award, and for five years, LexisNexis has sponsored the Pro Bono and Access to Justice Award, collaborating with the IBA to recognize those individuals who are bettering the world through their efforts.